Our Youth-First Approach
Wells Fargo and Thrive Global Project team up to create financial literacy programming for high achieving low-income college students with a youth-first approach

[Charlotte, NC, August 13] – Wells Fargo and Thrive Global Project are thrilled to announce an innovative partnership to create the Ready to Thrive Financial Literacy program for high-achieving, low-income college students. Through this partnership, the two organizations are putting an emphasis on youth leading the way through an innovative approach called Design Thinking.

The Center for Responsible Learning reports that student loan debt in North Carolina has grown by a startling 285%, leading to poor long-term economic outcomes. Research also shows that by providing students with as little as $500 in college savings, they are about 5x more likely to graduate from college than without (source 1 | 2). However, many students do not have the ability to set aside a designated amount to save, nor do they have the financial literacy to make informed decisions regarding their financial futures.

Additionally, COVID-19 has only worsened the educational and financial inequities that our community faced prior to the pandemic for low-income students.

These statistics are at the very foundation for why Thrive Global Project founded the 'Ready to Thrive' program in 2020. Through the Ready to Thrive program, Wells Fargo and Thrive Global Project are investing in students by putting them in the driver's seat to create a program that is impactful for them, providing financial support, and education to use best practices to create better economic outcomes. By putting students at the center of program development, through Design Thinking and innovative practices, the students and staff of Thrive Global Project are eager to co-create a curriculum, workshop topics, and resources that incentivize savings for young people.

"When students head off to college, there can be major gaps in their financial literacy, which can impact their finances for the rest of their lives," said Grace Moyd, Thrive Global Project's Executive Director. "Students are experts in their lived experience and need to be empowered to coach us on how best to teach about financial literacy and incentivize savings for their peers.

We're excited to use Design Thinking to create this innovative curriculum with students and pair it with the expertise of Wells Fargo to provide the Ready to Thrive program participants with a crash course in financial literacy. We believe the program, which includes a $500 savings scholarship, will make a difference in the lives and outlooks for local students."

The culmination of this Design Thinking work will be the Financial Literacy workshop held in December for the newest cohort of Ready to Thrive Scholarship recipients. By completing the Ready to Thrive scholarship program, not only will students learn about financial best practices, but each will also earn a savings scholarship of $500.

"Wells Fargo is proud to support the Ready to Thrive financial literacy program," said Kristi Thomas, Community Relations Senior Consultant for Wells Fargo. "We understand how important it is for all students to have access to financial literacy so they can take charge of their finances and reach their financial goals. At Wells Fargo, we believe that we're responsible for promoting the long-term economic prosperity and quality of life for everyone in our communities. If our communities prosper, we all prosper."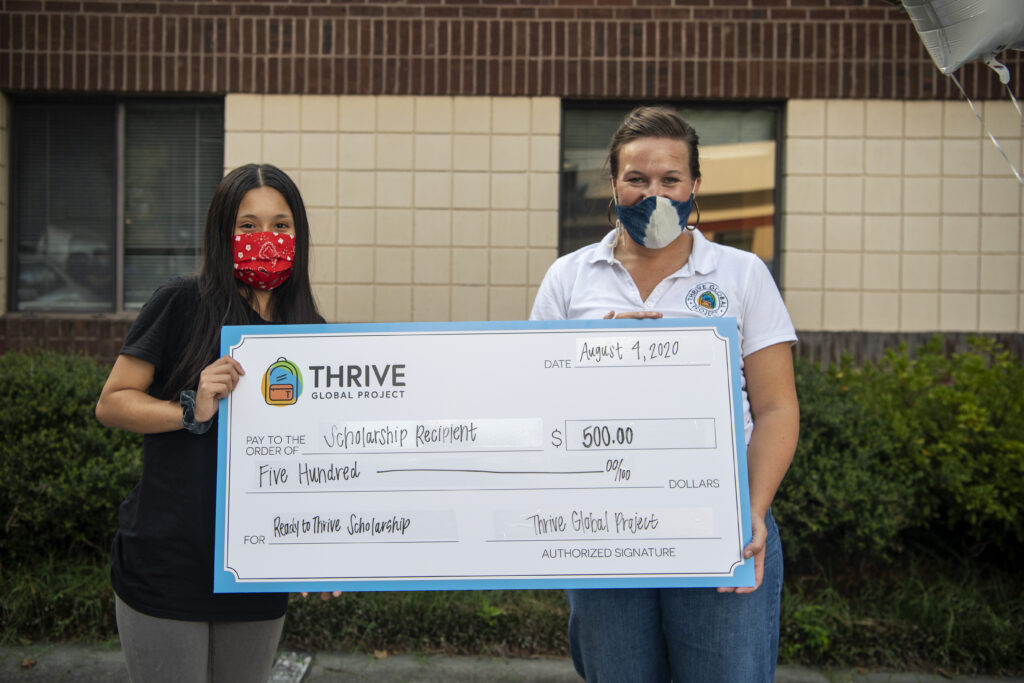 About Ready to Thrive (RTT)
Provides low-income, high-achieving college students with scholarships, access to technology, and expert-led programming designed to help students to have a more equitable college experience. Programming includes: Financial literacy, Mental health and well-being, technology, best practices, and internship and career readiness.

About Thrive Global Project
Thrive Global Project provides low-opportunity students with educational resources to empower them in life and in the classroom. We believe that families are the backbone of communities and that education is the core that strengthens families, builds communities, and impacts lives for the better.

We are steadfast in our mission to remove barriers to achieve quality education experiences, economic mobility, increased social capital, and racial equity by empowering students by providing the tools and programming for success. Our goal is to increase individual opportunity and empower students through sustainable education resources and programs that engage students, to then empower families.

Additional information may be found at thriveglobalproject.org

About Wells Fargo
Wells Fargo & Company (NYSE: WFC) is a leading financial services company that has approximately $1.9 trillion in assets, proudly serves one in three U.S. households and more than 10% of small businesses in the U.S., and is the leading middle market banking provider in the U.S. We provide a diversified set of banking, investment and mortgage products and services, as well as consumer and commercial finance, through our four reportable operating segments: Consumer Banking and Lending, Commercial Banking,

Corporate and Investment Banking, and Wealth & Investment Management. Wells Fargo ranked No. 37 on Fortune's 2021 rankings of America's largest corporations. In the communities we serve, the company focuses its social impact on building a sustainable, inclusive future for all by supporting housing affordability, small business growth, financial health, and a low-carbon economy. News, insights, and perspectives from Wells Fargo are also available at Wells Fargo Stories.

Additional information may be found at www.wellsfargo.com | Twitter: @WellsFargo.
Comments are closed.